Environmental Management students set up their career with a Deakin Hallmark
Deakin news
01 December 2016
Not only do Deakin University students Jason Prasad and Dannielle Graham have outstanding teamwork skills, they now have a digital credential to prove it; having become the 2016 recipients of the Deakin Hallmark: Teamwork Excellence in Environmental Management and Sustainability.
Deakin Hallmarks are university awards designed to give Deakin students an edge in the employment market. They are developed in collaboration with industry and professional bodies to ensure that they reward capabilities and warrant achievement that is prized in the workplace.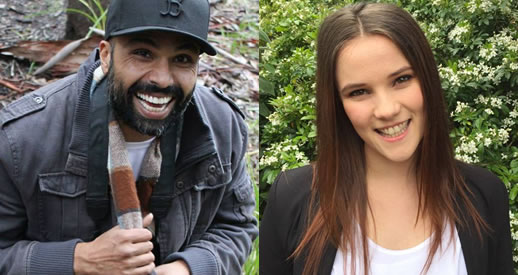 "The Deakin Hallmark: Teamwork Excellence in Environmental Management and Sustainability is designed to give students enrolled in the Bachelor of Environmental Science (Environmental Management and Sustainability)an opportunity to evidence outstanding contributions to teamwork", course director Dr Kelly Miller, School of Life and Environmental Sciences, explains.
"Teamwork is an essential skill for environmental managers and sustainability practitioners, and graduates can enhance their employability by evidencing their specific teamwork achievements."
The assessment panel who endorsed Jason and Dannielle's achievement included Deakin staff and industry representatives Sarah Nickels from Eastern Alliance for Sustainable Learning, Jack Krohn from Department of Environment, Land, Water and Planning, and Nicholas O'Brien, a graduate of the course.
To achieve the Hallmark, Jason and Dannielle had to provide a portfolio evidencing their sustained and meaningful contribution to diverse teams, impact of their work in teams on the field of environmental management and sustainability, and implementation of creative or innovative ideas within a team. The assessment panel agreed that the evidence submitted by Jason and Dannielle was outstanding.
As Deakin Hallmark recipients, Jason and Dannielle receive a digital credential that creates a detailed record of their achievement and can be shared publicly through social media and professional platforms like LinkedIn. The digital credential links to data that verifies the criteria and standards of assessment, and the identity of the assessment panel and industry partners who endorse the award. The achievement will also be recorded on their statement of academic achievement at graduation.
Read more about Deakin Hallmarks.
---