Grant for research on small mammals, fire and predators
Deakin news
20 June 2018
A Deakin University research project to help minimise the impacts of introduced predators on small mammals after bushfires has been awarded a grant from the Hermon Slade Foundation.
The project is being led by ecologists Adjunct Associate Professor Barbara Wilson and Dr Tim Doherty, from Deakin's School of Life and Environmental Sciences. Also on the project team are Professor Don Driscoll, Director of Deakin's Centre for Integrative Ecology and Dr Mark Garkaklis, Principal Ecologist, ArborCarbon.
'Predation by feral cats and red foxes is a major threat to native animals in Australia and their impacts can be worsened by bushfires that make it easier for the predators to hunt,' Dr Doherty explained.
'Our new research project will experimentally test whether providing supplementary refuges for small mammals post-fire can improve their survival and population size.'
The overall objective of the project is to assess how ground mammals respond to the provision of supplementary refuges (wire tunnels) in post-fire environments. The study will be conducted in the Otway Ranges in Victoria where cats and foxes are present and both planned and unplanned fires occur.
Associate Professor Wilson has been studying the mammals of this region since 1975. While the area is known for its species richness of ground-dwelling mammals (13 native and six introduced mammal species), steep declines of two threatened species (swamp antechinus and New Holland Mouse) have been recorded. Other threatened species include the white-footed dunnart, long-nosed potoroo and southern brown bandicoot.
Associate Professor Wilson said that there is no silver bullet for managing invasive predators and this project hoped to develop a new method that doesn't reply on lethal control, which is unreliable, especially for feral cats.
The project is being run from the Centre for Integrative Ecology and will receive $81,858 from the Hermon Slade Foundation over three years. The project is one of just 10 new grants from the Foundation this year out of 117 applications in total. Established in 1995, the Foundation aims to '...advance and enhance the progress and harmony of mankind with the Earth through the study and application of Natural Sciences.'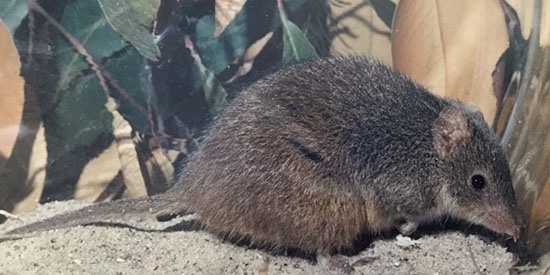 Key Fact
A swamp antechinus, Antechinus minimus, one of the federally listed threatened species that occurs in the study area. Credit: Barbara Wilson.
---