Reinventing the wheel pays off for Partington CC
Research news
09 September 2020
Geelong's new bicycle wheel manufacturer Partington CC has received two prestigious Australian Good Design Awards for its ground-breaking carbon fibre wheels.
Based at Deakin's ManuFutures innovation hub at Waurn Ponds, Partington CC was established by mechanical engineer Jon Partington. The company's R-series carbon fibre wheels received 2020 Australian Good Design Awards for both Engineering Design, and Sport and Lifestyle categories.
Australia's annual Good Design Awards program is one of the oldest and most prestigious international design awards in the world, promoting excellence in design and innovation since 1958 - showcasing examples of Australia's best design to a national and international audience.
With the encouragement and support of professional cyclists such as Cadel Evans, Partington's wheels are being embraced by cyclists around the world. The super-light disc brake, tubeless wheels (retailing for $7,590 a pair) are being hailed as the "new gold standard" for performance wheels.
Mr Ben Spincer, Executive Director of Deakin Research Innovations, said the awards are a tremendous endorsement of the design expertise being nurtured at ManuFutures.
"It is exciting to see the recognition of Jon Partington's efforts with these design awards and we look forward to supporting the continued success and growth of Partington CC at ManuFutures," said Mr Spincer.
After migrating from the UK in 2010, Partington worked with Ford for two years before completing his mechanical engineering degree at Deakin University, where he was particularly interested in Deakin's Carbon Nexus research facility. He began a Deakin PhD in advanced composites before taking the entrepreneurial plunge with Partington CC.
A keen cyclist himself, he drew on his knowledge of automotive design and carbon fibre to take a fresh approach to designing bicycle wheels.
"Bicycles have been around for over 200 years, but bike wheels have always been based on similar principles," Mr Partington said. "I went back to the drawing board to create wheels that drew on the strengths of advanced materials like carbon fibre to achieve a significant performance improvement.
"Most modern bike designers have tended to just substitute steel or aluminium with advanced materials without too much design thought. I realised we needed a new philosophy that capitalised on the features of carbon fibre such as length-to-strength ratio.
"We had to develop our own tooling and manufacturing process to do this. Carbon fibre, like string, needs to be loaded into tension, so all the loads on a high performance bike need to suit the material. Our wheels don't just use carbon fibre, but multiple materials such as titanium, aluminium and plastic, through a holistic approach that gets the best performance."
The company has just completed its first investment round, which will see growth in manufacturing capability and expansion of staff from five to 12 by the end of the year. A second scale-up early in 2021 will see up to 1000 wheel pairs produced next year.
"Being based at ManuFutures has allowed us to be embedded in an environment where we can access like-for-like businesses who are on the same journey," Jon Partington said.
"We work with mentors and get advice in business, law and technology, and we have access to talent. We employ Deakin graduates and expect to employ more."
The Good Design Awards are committed to promoting the importance of design to business, industry, government and the general public and the critical role it plays in creating a better, safer and more prosperous world. They aim to help foster a culture of design thinking, creativity and innovation in Australia and abroad.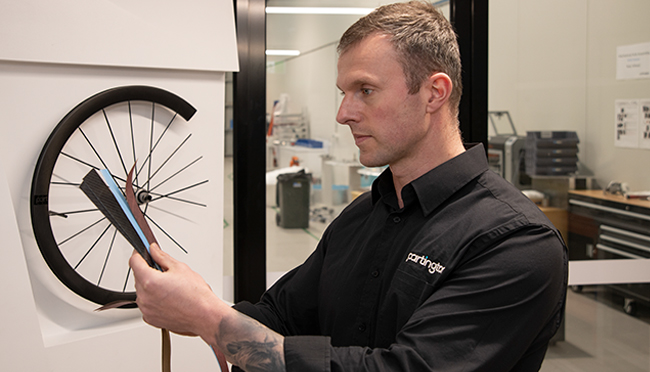 ---