Get work-ready
Apply exercise and sport science to improve the performance, health and participation of individuals, athletes and teams through training, coaching and advice. You'll develop the expertise to become a professional leader in exercise and sport science, and will study the biology, technology, behaviour and best practices that underpin exercise and sport science.
Undergraduate
Undergraduate (your first degree)
An undergraduate degree is generally completed between two to four years, depending on the pattern of study and any recognition of prior learning you may have. Associate degrees, bachelor and bachelor with honours are all undergraduate degrees.
Postgraduate
Postgraduate (further study)
A postgraduate qualification can be undertaken by students who have already completed an undergraduate degree or possess significant, demonstrable work experience. Postgraduate courses include graduate certificates, graduate diplomas, masters and PhDs, as well as specialist programs for industry professionals.
Research
Higher Degrees by Research (supervised research)
Research degrees are research based master's or PhD programs that focus on a single area of expertise. They provide students the opportunity to carry out highly specialised research under expert supervision.
Elite facilities across campuses
In our brand-new Specialised Indoor Exercise and Sport Science Building at our Burwood Campus you can use the 40-metre running track to measure the impact of running, work with accredited exercise physiologists to treat clients in the Deakin Clinical Exercise Centre, and train for different environments in the climate chamber. All that and much more is available to help you get the most out of your studies.
Our Elite Regional Sports Precinct, located at our Geelong Waurn Ponds Campus, is second-to-none, featuring an MCG-sized AFL oval, FIFA-grade soccer pitch and eight-lane IAAF 400-metre athletics track.
Study a field-leading degree
Thanks to world-class facilities and industry-leading academics, our exercise and sport science sequence is nationally accredited by Exercise and Sports Science Australia (ESSA). This means you'll graduate eligible to apply for membership as an Accredited Exercise Scientist (AES) or, with postgraduate study, an Accredited Sport Scientist (ASpS) or Accredited Exercise Physiologist (AEP).
Study sport with a world #1
Our School of Exercise and Nutrition Sciences is a world leader in sport science. We are ranked #1 in the world in the prestigious ShanghaiRanking's Global Ranking of Sport Science Schools and Departments.**
Career opportunities
Deakin exercise and sport science graduates are set apart from the competition. Upon graduating, you may find employment opportunities in:
applied sport science
biomechanics
clinical exercise physiology
fitness
health promotion
performance analysis
personal training
physical activity and education
sport coaching
sports nutrition
strength and conditioning.
This course combined my passion for the biomechanics of human movement and how it functions, whilst also focusing on sport performance.
Stephanie Moorhouse
Bachelor of Exercise and Sport Science
Regional and Remote Entry Scheme
Bonuses are available to help you gain entry to our field-leading Bachelor of Exercise and Sport Science and our combined courses; Bachelor of Exercise and Sport Science/Bachelor of Nutrition Science and Bachelor of Sport Science/Bachelor of Business (Sport Management).
Postgraduate sport science
Our postgraduate applied sport science courses, from graduate certificates to a masters degree, are designed to meet the exacting standards of the elite sporting industry. At the graduate certificate level, you can specialise in strength and conditioning or sport performance analysis, and can choose to continue to a graduate diploma or masters in applied sport science.
Soon, working in elite sport will require professional accreditation and 360 hours of work experience. The Master of Applied Sport Science involves a minimum of 220 hours. Plus, our close ties to professional sporting organisations, state-of-the-art facilities and world-class teaching staff will help you step up your career game.
Created with flexibility in mind, many of our postgraduate units can be taken online, as well as intensives offered at our Geelong Waurn Ponds Campus. These intensives give you the opportunity to study an entire unit over a shorter timeframe, rather than throughout a whole trimester.
Latest articles
Increasing women's representation in sport science research
Monica Kelly studied sport at Deakin and now works with athletes. She's seen first-hand the lack of women's representation in sport science research.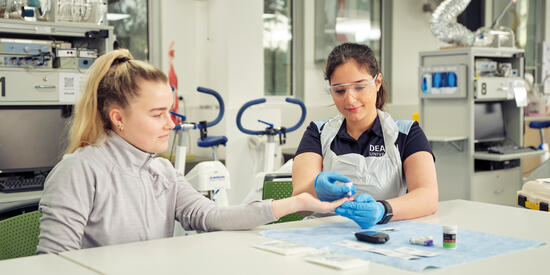 Promoting opportunity and visibility for women in sport
Deakin's Dr Samantha Hoffmann supervises sport and exercise physiology students, and supports the next generation of sport professionals.
Who we work with
We work with a diverse range of partners, including:
Geelong Football Club
Melbourne Boomers
Victorian Institute of Sport
Disability Sports Australia
Baker IDI Heart and Diabetes Institute
VicHealth
YMCA Australia.
Leading the way in sport research
Ideas can change the world. If you've got an innovative mind, take on a higher degree by research with us in our Centre for Sport Research (CSR) or Institute for Physical Activity and Nutrition (IPAN). Deakin's research institutes and centres bring together researchers from a variety of disciplines within the exercise and sport science area.
Discover exercise and sport science at Deakin
Staying ahead of the game with Nina Morrison
Learn how studying a Bachelor of Exercise and Sport Science at Deakin has helped #1 AFLW draft pick Nina Morrison transform her future.
Bachelor of Exercise and Sport Science – Noni's story
Hear from Noni Taylor about her experiences working with the North Melbourne Football Club and studying Deakin's Bachelor of Exercise and Sport Science and honours program. In our course, you can gain up to 320 hours of practical experience, making you ready for a career in the sport industry.
ESPN presents 'The Future of Footy', brought to you by Deakin
ESPN speaks to Deakin's sport experts and the Geelong Cats as they discuss the future of the game (Episode: Analytics Role in Decision Making).
Master of Applied Sport Science at Deakin
Deakin's Master of Applied Sport Science is designed in conjunction with industry professionals to meet the need for qualified, high-level sport scientists wanting to work in professional and semi-professional environments.
Footnotes
**ShanghaiRanking Global Ranking of Sport Science Schools and Departments 2021
Browse other disciplines within sport
Choose an area that you're interested in and learn how Deakin's extensive range of study options and experiences can help turn your dreams into reality.
Browse other disciplines within health sciences and allied health
Choose an area that you're interested in and learn how Deakin's extensive range of study options and experiences can help turn your dreams into reality.