Current Deakin Students
To access your official course details for the year you started your degree, please visit the handbook
Course overview
The field of human resource management has become increasingly sophisticated and expert practitioners are in high demand. Propel your career with Deakin's Graduate Certificate of Human Resource Management. Whether you're already in the industry or looking to diversify your professional skill set, this course offers an opportunity to explore the fundamentals of both theory and practice.

Are you ready to add further expertise to your human resources skill set?
Develop an understanding of the theories and models of strategic human resource management and how they can be applied in organisations to enhance performance. Learn how the strategic use of people resources and HR practices can drive an organisation's strategic direction.
You will come to understand the four core parts of strategic staffing including the staffing context, recruitment, personnel selection, and retention management. You will also build a thorough understanding of employment relations within an Australian and international context and examine how employment relationships are managed within a framework of change.
Hone your critical thinking skills while analysing the role human resource management plays in managing the rewards and performance of individuals and groups in organisations.
This course is a pathway into the Master of Human Resource Management.
Read More
Course information
Award granted

Graduate Certificate of Human Resource Management

Year

2024 course information

Deakin code

M515

Level

Postgraduate (Graduate Certificate and Graduate Diploma)

Approval status

This course is approved by the University under the Higher Education Standards Framework.

Australian Qualifications Framework (AQF) recognition

The award conferred upon completion is recognised in the Australian Qualifications Framework at Level 8.
Course structure
To complete the Graduate Certificate of Human Resources, students must attain a total of 4 credit points of core units plus completion of the compulsory 0-credit point module, DAI001 Academic Integrity Module. Most units (think of units as 'subjects') are equal to 1 credit point.
Intakes by location
The availability of a course varies across locations and intakes. This means that a course offered in Trimester 1 may not be offered in the same location for Trimester 2 or 3. Check each intake for up-to-date information on when and where you can commence your studies.
Trimester 1 - March
Start date: March
Available at:
Trimester 2 - July
Start date: July
Available at:
INTERNATIONAL STUDENTS - International students should note that, due to visa regulations, this course can only be undertaken while living outside Australia.
Additional course information
Course duration
Course duration may be affected by delays in completing course requirements, such as accessing or completing work placements.
Mandatory student checks
Units which contain work integrated learning, a community placement or interaction with the community may require a police check, working with children check or other check. These requirements will be detailed in unit guides upon enrolment.
Workload
As a student in the Faculty of Business and Law, you can expect to participate in a range of teaching activities each week. This could include online classes and seminars, and online interaction. You can refer to the individual unit details in the course structure for more information. You will also need to study and complete assessment tasks in your own time.
Participation requirements
Units in this course may have participation requirements that include compulsory placements, work-based training, community-based learning or collaborative research training arrangements.
Reasonable adjustments to participation and other course requirements will be made for students with a disability. More information available at Disability support services.
Work experience
This course does not require students to complete compulsory work integrated learning units.
Admission criteria
Selection is based on a holistic consideration of your academic merit, work experience, likelihood of success, availability of places, participation requirements, regulatory requirements, and individual circumstances. You will need to meet the minimum course entry requirements to be considered for selection, but this does not guarantee admission.
Academic requirements
To be considered for admission to this degree you will need to meet at least one of the following criteria:
completion of a bachelor degree or higher
at least two years' relevant work experience (or part-time equivalent)
English language proficiency requirements
To meet the English language proficiency requirements of this course, you will need to demonstrate at least one of the following:
Admissions information
Learn more about Deakin and how we compare to other universities when it comes to the quality of our teaching and learning.
Not sure if you can get into Deakin postgraduate study? Postgraduate study doesn't have to be a balancing act; we provide flexible course entry and exit options based on your desired career outcomes and the time you're able to commit to your study.
Online studies
Deakin offers many courses which can be studied by distance education overseas.
However, international students living in Australia on a student visa, in each compulsory trimester (that is, Trimesters 1 and 2), must enrol in at least one unit that is offered as a Campus located unit and can, in addition enrol in units offered online. International students may undertake a maximum of up to one third (or equivalent) of their study as online study. Please note enrolment in one face to face unit in compulsory study periods is only allowed if the student is completing their final unit of study and will not exceed maximum one third (or equivalent) online requirement.
Recognition of prior learning
If you have completed previous studies which you believe may reduce the number of units you have to complete at Deakin, indicate in the appropriate section on your application that you wish to be considered for Recognition of Prior Learning. You will need to provide a certified copy of your previous course details so your credit can be determined. If you are eligible, your offer letter will then contain information about your Recognition of Prior Learning.
Your Recognition of Prior Learning is formally approved prior to your enrolment at Deakin during the Enrolment and Orientation Program. You must bring original documents relating to your previous study so that this approval can occur.

You can also refer to the Recognition of Prior Learning System which outlines the credit that may be granted towards a Deakin University degree.
Fee information
Estimated tuition fee - full-fee paying place
The 'Estimated tuition fee' is provided as a guide only based on a typical enrolment of students completing this course within the same year in which they started. The cost will vary depending on the units you choose, your study load, the length of your course and any approved Recognition of Prior Learning you have.
The 'Estimated tuition fee' is calculated by adding together four credit points of study. Four credit points is used as it represents a typical enrolment load for a Graduate Certificate.
Each unit you enrol in has a credit point value. You can find the credit point value of each unit under the Unit Description by searching for the unit in the Handbook.
Learn more about tuition fees.
Scholarship options
A Deakin scholarship might change your life. If you've got something special to offer Deakin – or you just need the financial help to get you here – we may have a scholarship opportunity for you.
Postgraduate bursary
If you're a Deakin alumnus commencing a postgraduate award course, you may be eligible to receive a 10% reduction per unit on your enrolment fees.
Entry pathways
This course provides a pathway into the Master of Human Resource Management (M782)
Further study options
Career outcomes
The Graduate Certificate of Human Resource Management will provide you with skills and knowledge for a career in:
human resources
business
government
industry.
Professional recognition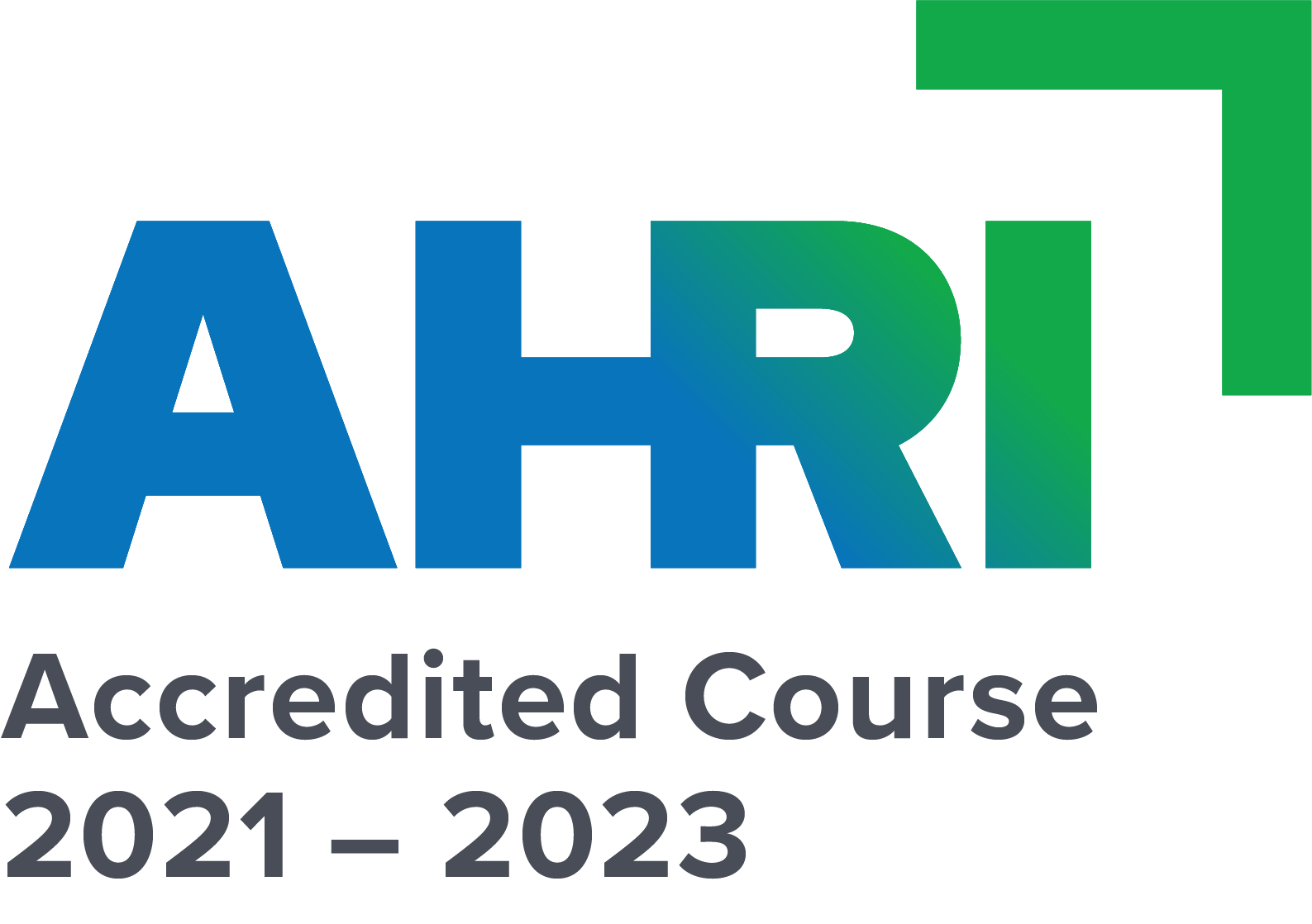 The Graduate Certificate of Human Resource Management is accredited by the Australian Human Resources Institute (AHRI). Graduates may be eligible for entry into the AHRI Practising Certification (APC) Program.
Deakin Business School holds both AACSB and EQUIS accreditations. These prestigious accreditations are awarded to business schools that meet strict standards of quality, academic and professional excellence, and demonstrate a commitment to ongoing improvement and innovation in their courses, ensuring our graduates are employable worldwide.
Course learning outcomes
Deakin's graduate learning outcomes describe the knowledge and capabilities graduates can demonstrate at the completion of their course. These outcomes mean that regardless of the Deakin course you undertake, you can rest assured your degree will teach you the skills and professional attributes that employers value. They'll set you up to learn and work effectively in the future.
| | |
| --- | --- |
| Graduate Learning Outcomes | Course Learning Outcomes |
| Discipline specific knowledge and capabilities | Demonstrate an advanced understanding of a contemporary body of knowledge in human resource management |
| Communication | Apply appropriate communication skills within the context of human resource management |
| Digital literacy | Use appropriate digital technologies to identify and disseminate complex information, concepts and theories in human resource management |
| Critical thinking | Analyse critically, evaluate and express sound judgement, ideas and reflection in relation to a range of management issues |
| Problem solving | Apply problem solving skills necessary to conceptualise and solve complex human resource issues in the workplace |
| Self-management | Operate successfully as an independent learner in an online learning environment |
| Teamwork | Apply team working skills in addressing human resource issues in the contemporary workplace |
| Global citizenship | Identify and respond to authentic ethical and cultural issues faced by HR professionals in organisations |
| | |