Art at Deakin
Alumni news
20 September 2019
When you visit any Deakin campus, you will not only be greeted by the familiar sight of students, the library and lecture theatres. Around each campus, you will find art from Australian and international artists for our community to enjoy.
Rotating exhibitions are displayed at the Deakin University Art Gallery at the Burwood Campus, Deakin University Downtown Gallery, and the Deakin University Burwood Library Gallery Space.
Currently, you can enjoy 'In her words', a photographic exhibition focusing on women behind and in front of the camera, at Burwood. At Deakin Downtown you can view 'Paul Laspagis, Kathryn Ryan and Stephen Wickham', where the works of three Victorian based artists, whose practices depict the changing landscapes of the environments surrounding Deakin, are on display. To read more about future and current exhibitions, visit the art gallery website.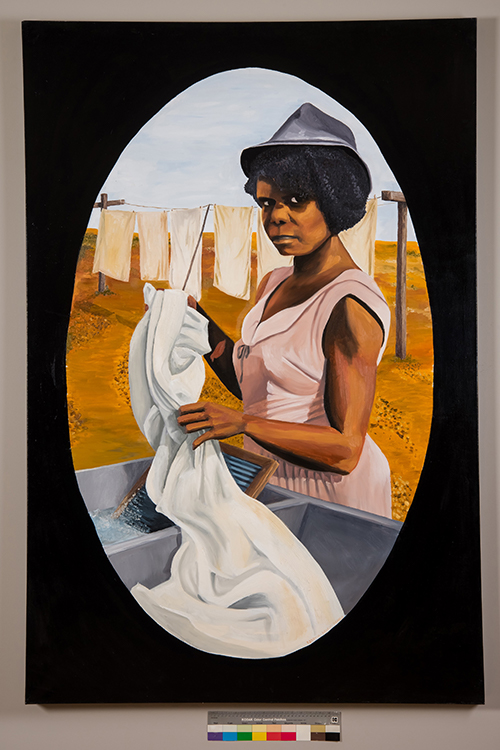 Boneta-Marie Mabo, E. Bonita Mabo AO, Munbarra, South Sea Islander Descendant (Tanna Island) 2015, oil on canvas, 182 x 121 cm. Deakin University Art Collection, Purchased 2016. Image courtesy of the artist. Boneta-Marie Mabo is a contemporary Aboriginal and Torres Strait Islander artist who studied Visual Arts at the Institute of Koorie Education at Deakin University. She is the eldest granddaughter of Eddie 'Koiki' Mabo who fought for traditional indigenous land ownership to be recognised by Australian law.
Whenever you may find yourself on campus, you can enjoy an inspiring and innovative virtual tour that will lead you through campus explaining each artwork. At the Warrnambool Campus you will find pieces from Australian artists Bruce Latimer, and New Zealand born artist Godwin Bradbeer.
At Burwood, Waurn Ponds, and Waterfront Campuses, sculpture walks take you around campus and include new additions such as Gillie and Marc's 'The Musicians' (Burwood), and pieces that have long been a part of Deakin's collection, including Bruce Armstrong's 'Every Bird' (Waterfront), and Guy Boyd's 'Leda and the Swan' (Waurn Ponds).
The Musicians 2018, Gillie and Marc, bronze, Deakin University Art Collection, donated through the Australian Government's Cultural Gifts Program by Gillie Schattner and Marc Schattner, 2019. On display at Melbourne Burwood Campus.
To access these audio tours, and for information about the on campus gallery spaces, visit the Deakin website.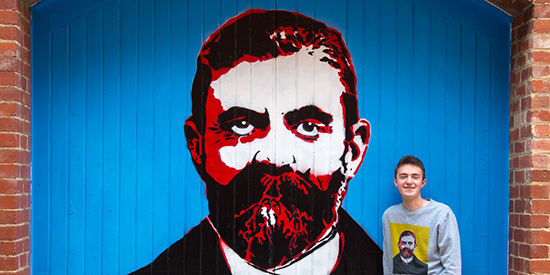 Key Fact
Alfred Deakin Mural by Deakin Student Jack Herd and mentor Glen Smith, at Waterfront campus