New exhibition celebrates Deakin's rich and varied art collection
Media release
07 November 2019
The Deakin University Art Gallery is showcasing highlights from its recent acquisitions - including pieces recently donated by well-known contemporary artist Andrew Rogers - in a new exhibition.
The Gallery's fifth exhibition for 2019 - Recent Acquisitions from the Deakin University Art Collection - features treasured examples of Australian painting, sculpture, photo-media, performance works and artist books that have been acquired in recent years.
Alongside Rogers' recently donated works, it also brings together a diverse group of leading and emerging Australian artists including Hayley Millar-Baker, Peta Clancy, Anne-Marie May, Ian Milliss, Steaphan Paton, Hoda Afshar, Marlene Gilson, and the artistic duo nova Milne and Anne Zahalka.
The Deakin Art Collection has grown since the University's inception to comprise more than 2,200 artworks including large scale public artworks, painting, sculpture, photography, artist books, drawings and prints on display across each of the University's four campuses and business centres.
The collection is grouped into five specialty areas:
The Premium Collection focusing on the work of contemporary Australian artists who have a record of practice and development of their art form, and are well represented in public collections.
The Campus Collection reflective of the Deakin community and including works across a wide range of media of student, alumni and staff artworks.
The Artists' Book Collection representing examples of Australian and international artists' books and limited editions.
The Sculpture Collection a significant body of large and small sculpture and maquettes from a range of well-known contemporary Australian artists.
The Centre for Abstract and Non-Objective Art
Deakin's Art Collection and Galleries Senior Manager Leanne Willis said 2019 has been a particularly important year for donations to the University's collection.
"So far this year more than one hundred artworks have been donated by leading Australian artists and arts patrons," Ms Willis said.
"This includes the recently announced gift of 88 artworks from well-known contemporary artist Andrew Rogers valued at 3.7 million, a selection of which are on display in this exhibition."
Some other highlights from the exhibition include:
Terry Matssoni, My Car Donated in 2019 by the artist, a Deakin alumni and lecturer, this work is a preparatory drawing for Mattasoni's Art Tram, which was also donated to the Deakin collection by Vic Track earlier this year and recently installed on Deakin's Burwood campus. Art Tram 837 (Matassoni) is part of a VicTrack initiative where more than 130 retired W-Class Trams were repurposed around Victoria and Tasmania.
Judith Harley, Deakin Lecture, Tall Timber and Summer on Swan Bay
Donated by the artist in 2019, this work depicts the artist and granddaughter of Alfred Deakin introducing a lecture celebrating the Centenary of Federation at Melbourne Town Hall, while being watched by her husband and sons.
Peter Lyssiotis, What the moon let me see Commissioned by Deakin University in 2017,this artist book by well-known Burwood-based artist Peter Lyssiotis is about a journey, a father and son, and how their lives interweave. The book includes original text and images and is a collaboration between Victoria Cooper and Doug Spowat who took the images with a pin hole camera, and Peter Lyssiotis who constructed the artist book and provided the text.
Boneta-Marie Mabo, Eddie Mabo Stamps Purchased in 2014, this work was created to honour Mabo's grandfather for the personal impact he had on her life, inspired by his Australia Post stamp in 2013. Mabo is a contemporary Aboriginal and Torres Strait Islander artist who is currently studying Visual Arts at Deakin's Institute of Koorie Education. She is the eldest granddaughter of Eddie 'Koiki' Mabo who fought for traditional indigenous land ownership to be recognised by Australian law.
Recent Acquisitions to the Deakin University Art Gallery is on show at the Deakin University Art Gallery at Deakin's Burwood Campus from now until 5 December 2019. The exhibition has been co-curated by Leanne Willis and James Lynch from Deakin University. For more information, visit http://www.deakin.edu.au/locations/melbourne-burwood-campus/art-gallery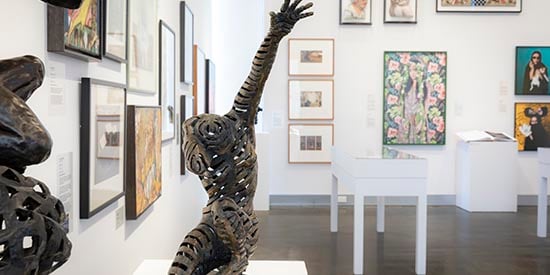 More like this
Media release