Influence the future of our environment
Whether you'd like to study marine and freshwater ecosystems, contribute to environmental management and sustainability, or conserve wildlife and plants for future generations, we've got a range of specialised courses for you to choose from.
Hands-on learning

Our environment courses take you out of the classroom and into the field. This hands-on experiential learning gives you the practical skills that are highly sought by employers.
Depending on your course, field activities can include anything from coastal planning to surveying wildlife populations.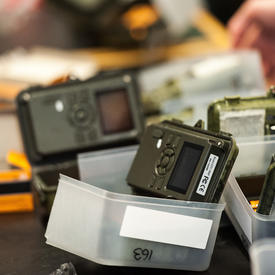 First-class facilities

Your learning is enhanced by a range of state-of-the-art facilities and equipment, including a Geographic Information Systems lab, wildlife tracking technology and infrared motion-sensing wildlife cameras.
If you're studying marine biology, you'll experience the underwater environment with research vessels and remotely operated, underwater vehicles that beam images of marine plants and animals from the sea floor.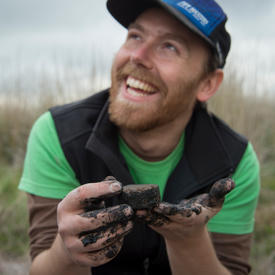 A thriving research culture

Deakin supports one of the world's most prestigious environmental and marine science research programs. Our ecologists are helping to protect Australia's vulnerable flora and fauna from disease, rapid development and climate change.
Some of our current research includes tracking turtles from space, and the discovery of three new mammal species.
We spent six days in the Otways designing our field experiments, handling small mammals, camera trap setting and koala counting.
Bachelor of Environmental Science (Wildlife and Conservation Biology)
Experience the world while you study
Deakin offers a variety of overseas study programs, including the Global Citizenship Program and international volunteering opportunities. Environment students have studied in a diverse range of countries like New Zealand, Canada, the US and Costa Rica.
Links with industry
Our staff have relationships with organisations like the Department of Environment, Land, Water and Planning, Parks Victoria and the Department of Primary Industries to ensure our courses are up-to-date with industry trends.
Environment courses at Deakin have a core professional placement unit, with students completing placements in local, state and federal government, as well as a range of high-profile organisations, including:
Zoos Victoria
Department of Environment, Land, Water and Planning
Parks Victoria
Biosis-Environmental Consulting.
Strong employment outcomes
Our environment graduates have found exciting and diverse opportunities to work in the public, private and not‑for-profit sectors in a range of fields, including: wildlife conservation and management, environmental management and sustainability, fisheries and aquaculture, marine biology, agriculture and natural resources management.
Still haven't found what you are looking for?