Deakin Card
One card for all your daily needs at Deakin - Welcome to Deakin Card.
It's not only your ID, library and access card but by loading money to your card, you can print and pay for all your on campus purchases.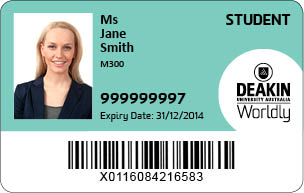 Delivery of Deakin Card impacted by COVID-19
As we have limited access to our campus services, Deakin Cards are taking longer to produce and send. Please submit your request and you will be notified through our online enquiry system when you can expect to receive the card. At the moment this is between 10-15 days within Australia and 20 days if posted overseas.
Information about how to get your first Deakin Card (student ID card).
Find useful information about using your Deakin Card (for staff, students and visitors). Topics include:
Need a replacement Deakin Card?
Need to report your Deakin Card lost or stolen?
Scholarships or awards on your card
Place to use your Deakin Card
Terms and conditions
We offer an exciting range of services to make life simpler for Faculties and Divisions. Topics include:
Event attendance recording
Awards and scholarships for students
Printing credits for students
Campus Charge Cards
Last updated: Page custodian: Division of Student Life