Deakin Card
Your Deakin Card is used for printing, access and identification while on campus.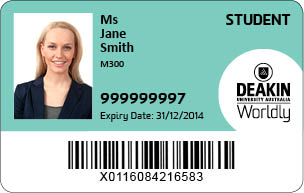 Information about how to get your first Deakin Card (student ID card).
Find useful information about using your Deakin Card (for staff, students and visitors). Topics include:
Need a replacement Deakin Card?
Need to report your Deakin Card lost or stolen?
Terms and conditions
Deakin Card refunds
If you still have funds remaining on your card please email us at cardinfo@deakin.edu.au. Refunds may take up to four weeks to appear in your account.
Last updated: Page custodian: Campus Operations