Unique student identifier
A Unique Student Identifier (USI) is your lifelong education number with the Australian Government.
What is a Unique Student Identifier (USI)?
A USI is your individual education number for life with the Australian Government. If you've studied in the TAFE sector before, you may already have one and they are now being used in Universities as well. From 1 January 2021, new higher education students will need a USI to be eligible for Commonwealth assistance. The types of assistance include a Commonwealth supported place (CSP) and HELP loans such as HECS-HELP, FEE-HELP, SA-HELP, OS-HELP etc.
Do I need one?
In 2021 and 2022, each new domestic student and domestic students course transferring or articulating will require one. Gradually existing students will also require one. Deakin will let you know if you need one and what you need to do.
How to I get a USI?
If you don't have a USI, you can create one through the Australian Government site Get a USI. Make sure that when you create your USI, you record your name correctly so that when you verify it with Deakin, your details will match. This process will take you around 5 minutes to complete.
How do I provide my USI to Deakin?
When you login to StudentConnect, you can save and verify your USI under Personal details on the left hand side menu: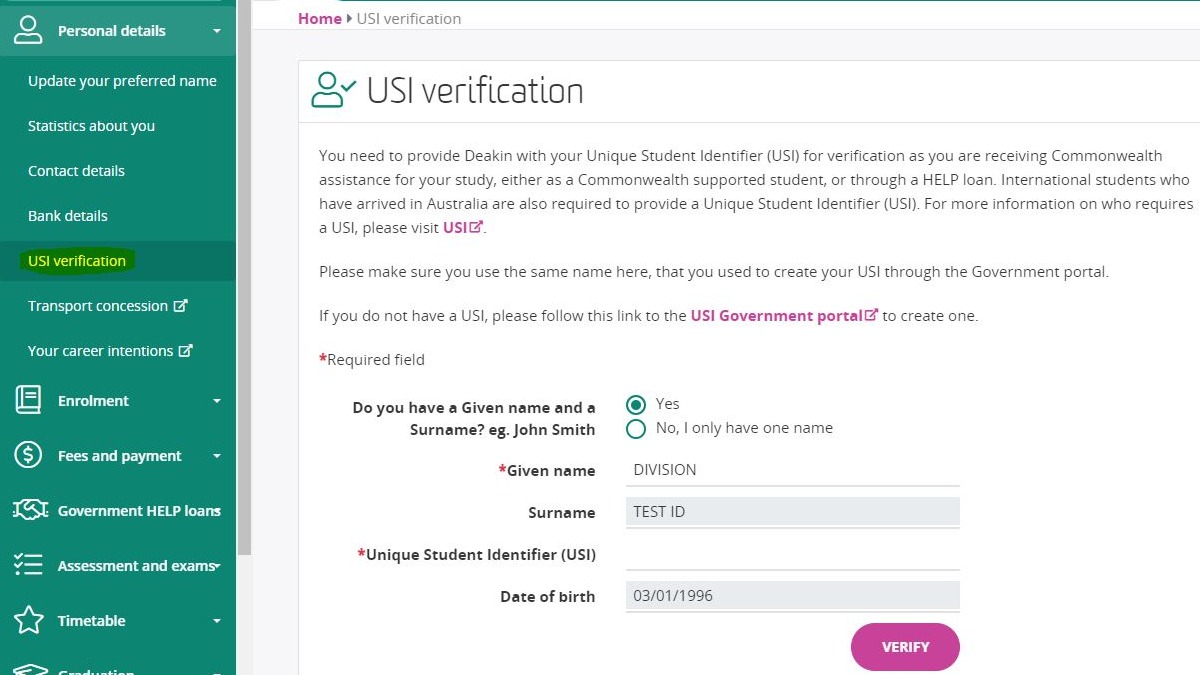 What if I don't provide a verified USI by my first census date?
Your enrolment will be cancelled for your first Trimester/Semester. You will not be able to continue studying until the next Trimester/Semester.
Find out more
Watch the video below to find our more or visit the Australian Government USI website.
Last updated: Page custodian: Division of Student Administration