SOM Biophysics Facility
Overview
School of Medicine Biophysics Facility offer two biophysical analysis technologies;
NanoSight NS300: It utilizes the particle characterization technology, Nanoparticle Tracking Analysis (NTA), to visualize and measure particles in suspension (aqueous solution only) in terms of size, light scattering intensity, fluorescence and count. NTA is a video-based analysis for particles between 20-2000 nm* (*material dependent). Its applications includes protein aggregation, exosome and microvesicle research, and drug delivery systems.
MicroCal PEAQ (Isothermal Titration Calorimeter; ITC): This is the gold standard technique to study label-free biomolecular interactions in-solution and is a thermodynamic technique that directly measures the heat released or absorbed during a biomolecular binding event. It enables the accurate determination of binding constants (KD), reaction stoichiometry (n), enthalpy (ΔH) and entropy (ΔS). This provides a complete thermodynamic profile of the molecular interaction. The sample size for binder (e.g. proteins) is 300 ml and the MINIMUM requirement for the concentration of binder is 1 mM while that for the ligand is 10 mM. Both NanoSight and MicroCal PEAQ ITC are available to all School of Medicine, internal Deakin University researchers, as well as external scientists from other research facilities.
No training of these instruments will be provided.
Samples will be run by members of Prof. Wei Duan's Lab.
To gain access to these instruments, please provide a copy of SOP and complete the application form. This is to ensure that the experimental condition (eg. buffer used, nanoparticle waste management, etc.) is suitable and would not damage the instruments, and comply with regulatory requirements. Once the SOP is approved, booking can be arranged.
FEES
Instrument

Duan Lab

SOM

Deakin University

External

Hourly Rate

NanoSight NS300

$5

$15

$30

$45

MicroCal PEAQ ITC

$4

$15

$30

$45
Instruments
NanoSight NS300 (Nanoparticle Tracking Analysis) (KA4.308)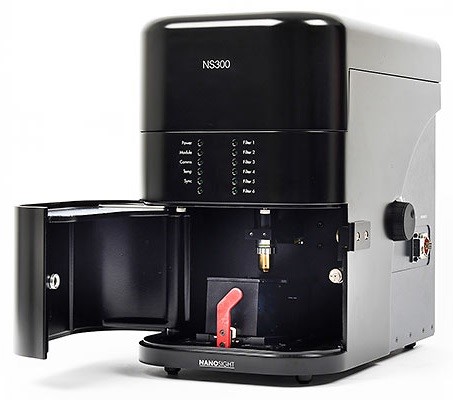 NanoSight NS300 utilize Nanoparticle Tracking Analysis (NTA) to characterize nanoparticles from 10nm - 2000 nm* (*dependent on material) in solution. Each particle is individually but simultaneously analysed by direct observations of diffusion. This particle-by-particle methodology produces high resolution results for particle size distribution and concentration while visual validation gives users extra confidence in the data. As well as particle size and concentration, protein aggregation and viscosity can all be analysed, while a fluorescence mode provides detection of labelled particles.
The NanoSight NS300 system uses a 405 nm (violet) laser source to excite suitable fluorophores whose fluorescence can then be determined using long-pass 430 nm emission filter.
Key Benefits of NanoSight NS300

Applications

Simultaneous measurement of multiple characteristics saving on time and sample quantities

Visual validation of results gives extra confidence

User friendly software with easy set-up of SOPs for routine use

Minimal sample preparation
The option of automated multiple sample analysis when used with a syringe pump or auto sampler

Minimal consumables reduce running costs on a day to day basis

High resolution particle sizing technique, ideal for polydisperse systems

Development of drug delivery systems
Viral vaccine research
Nanotoxicology and biomarker detection
Protein aggregation research
Extracellular vesicle characterization for various disease state studies

Key Specifications

Size 20 nm - 2000 nm* (*dependent on material)

particle concentration 1 x 106 – 1 x 109 particles per mL (must be in aqueous solution)
Fluorescence detection Excitation: 405 nm blue laser, Long-pass emission filter 430 nm.
---
MicroCal PEAQ (Isothermal Titration Calorimeter; ITC) (KA4.307)
Isothermal titration microcalorimeters measure the heat change that occurs when two molecules interact. Heat is released or absorbed as a result of the redistribution and formation of non-covalent bonds when the interacting molecules go from the free to the bound state. ITC monitors these heat changes by measuring the differential power, applied to the cell heaters, required to maintain zero temperature difference between the reference and sample cells as the binding partners are mixed. The reference cell usually contains water, while the sample cell contains one of the binding partners (the sample). A stirring syringe that holds the other binding partner (the ligand). The ligand is injected into the sample cell until the ligand concentration is two- to three-fold greater than the sample. Each injection of ligand results in a heat pulse that is integrated with respect to time and normalized for concentration to generate a titration curve of kcal/mol vs molar ratio (ligand/sample). The resulting isotherm is fitted to a binding model to generate the affinity (KD), stoichiometry (n) and enthalpy of interaction (ΔH). The MicroCal PEAQ-ITC is a highly sensitive, low volume isothermal titration calorimeter for the label-free, in-solution study of biomolecular interactions. It delivers direct measurement of all binding parameters in a single experiment and can analyze weak to high affinity binders, using as little as 10 µg sample.
Key Benefits of MicroCal PEAQ-ITC

Applications

User-friendly guided workflows with embedded help videos give any level of user the ability to generate high quality data.
High signal to noise gives more confidence in accessing data quality and relevance of generated affinity and thermodynamic parameters.
Automated washing with detergent of the sample cell and titration syringe assists in producing high quality reproducible data.
All binding parameters (affinity, stoichiometry, enthalpy and entropy) in a single experiment.
Quick to first results with no assay development, no labelling, no immobilization and no molecular weight limitations.

MicroCal PEAQ-ITC analysis software

Open multiple experiments in a single session
Automated fitting models (One-Site,Two-Site, Sequential, Competitive, Enzyme Kinetics, Dissociation)
Automated assessment of data quality

Good quality data - Binding
Good quality data - No binding
Poor quality data - Check data

Particle concentration
Particle size
Protein aggregation

Key Specifications

Sensitive enough to investigate biomolecular interaction using as little as 10 μg protein
Directly measures millimolar to nanomolar affinities (KDS) (10-2 to 10-9 M)
Measures nanomolar to picomolar disassociation constants using competitive binding techniques (10-9 to 10-12 M)
Sample volume:280 µL
Cell volume:200 µL
Injection syringe volume:40 µL
Injection volume precision:< 1% at 2 µL
Nonreactive Hastelloy for chemical resistance and compatibility with biological samples.
Compatible with non-aqueous solvents.
The sample size for binder (e.g. proteins) is 300 ml and the MINIMUM requirement for the concentration of binder is 1 mM while that for the ligand is 10 mM.
Booking and Cancellation
BOOKING POLICY
All bookings are to be made online using Outlook Calendar and are subjected to management approval. Minimum booking is 1 hour, followed by 30 minute increments thereafter.
*G HEALTH Medicine Lab Eqpmt ka 4.308 Nanosight300
*G HEALTH Medicine Lab Eqpmt ka 4.307 MicroCalPEAQITC
Charging starts from the time booked, so it is in your interest to arrive on time.
CANCELLATION POLICY
Cancellations can be made via the online booking system with between 24-48 hours' notice.
Cancellations with less than 24 hours' notice will be charged 50% of the booked time and no-shows will be charged in full.
STANDARD OPERATING PROCEDURE
OCCUPATIONAL HEALTH & SAFETY
CONTACT
Tel. +61 3 5227 1149
Last updated: Page custodian: Faculty of Health