Assignment extensions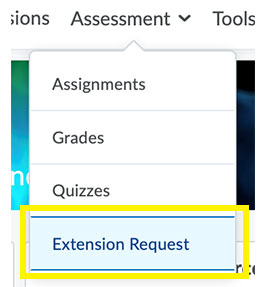 If you wish to seek an extension for an assignment, you will need to apply via the online Assignment Extension Tool in your unit site. Your request will be forwarded to your Unit Chair for consideration.
This needs to occur as soon as you become aware that you will have difficulty in meeting the due date. A request for an extension should be submitted before the due date.
You must provide a reason for the extension and the Unit Chair may request that you provide a draft of your assignment as part of your request. Conditions under which an extension will normally be considered include:
Medical – to cover medical conditions of a serious nature, e.g. hospitalisation, serious injury or chronic illness.
Note: temporary minor ailments such as headaches, colds and minor gastric upsets are not serious medical conditions and are unlikely to be accepted. However serious cases of these may be considered. If providing a medical certificate, the Deakin medical certificate is preferred.
Compassionate – e.g. death of a close family member, significant family and relationship problems
Hardship/Trauma – e.g. sudden loss or gain of employment, severe disruption to domestic arrangements, victim of crime.
Note: misreading the due date, assignment anxiety or returning home will not be accepted as grounds for consideration.
Penalties for late submission
The following marking penalties will apply if you submit an assessment task after the due date without an approved extension: 5% will be deducted from available marks for each day up to five days. Work that is submitted more than five days after the due date will not be marked; you will receive 0% for the task. 'Day' means working day for paper submissions and calendar day for electronic submissions. The Unit Chair may refuse to accept a late submission where it is unreasonable or impracticable to assess the task after the due date. It is important that you check any assignment instructions carefully to see if late submissions are impracticable to assess and will not be marked.
Information for students seeking an extension AFTER the due date
If the due date has passed, you require more than 2 weeks extension, or you have already been provided with an extension and require additional time, you must apply for Special consideration. Please be aware that applications are required by University procedure to be submitted within 3 business days of the due date or extension due date.
How to apply
Go to the Assessment drop-down menu in the Navigation Bar of your unit site and complete an online Extension Request.
You should articulate your progress in completing the assignment and specify the length of extension you are seeking (maximum of 2 weeks).
It is not always necessary for you to provide documentary evidence, in order to receive an extension. If you are unsure if such evidence might be required, you can ask for that to be clarified when you submit your request. Alternatively, the teaching staff member considering your request will inform you of any documentation they may require in order to respond to your extension request.
Last updated: Page custodian: Faculty of Science, Engineering & Built Environment