Honours in Life and Environmental Sciences
Honours provides an important year for learning and improving scientific skills in research design and implementation, critical thinking and data analysis, digital literacy, and scientific communication.
These skills are recognised by employers as essential in the workplace and therefore can make you more employable. A Honours degree also exposes you to research of national and international significance. It can also lead to further study as a postgraduate student, undertaking Masters or PhD level research.
Honours at Deakin
An Honours year can be an invaluable addition to your undergraduate degree. Find out more about Honours from our students.
Play video now (4:22)
Project booklets
We provide a number of project ideas for Honours located at our campuses. Take a look through our project booklets below. Booklets may be updated as projects change or additional projects become available. Always check with the principle supervisor.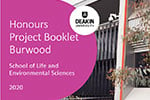 Burwood Honours Projects 2020
Booklet
(PDF, 2.5MB)
Geelong Honours Projects 2020
Booklet
(PDF, 2.9MB)
Warrnambool Honours Projects 2020
Booklet
(PDF, 2.1MB)
Key dates and Coordinators
Honours applications for 2020 need to be received by the following closing dates:
Semester 1 2020: Monday 13 January 2020
Semester 2 2020: Friday 19 June 2020
Honours Campus Coordinators can help answer any general questions or discuss your project ideas and program:
How to apply
Your first step in securing a place in the Honours Program for 2020 is to contact supervisors and discuss projects.
After you have had a discussion and agreed upon a project, you will need to complete our two-part application process:
An Honours application form (DOCX, 31.2KB) with supervisor's signature
A formal application through Deakin's applicant portal, attaching the completed Honours application form
Last updated: Page custodian: Faculty of Science, Engineering & Built Environment