Cloud study support
Deakin has a team of staff and students dedicated to providing study support services to help you get the most out of your online learning experience. Visit DeakinSync for personalised information and services.
Online orientation
Get the knowledge, skills and resources to study with confidence.
Preparing to Succeed offers an overview of postgraduate study and life at Deakin.
UniStart provides detailed information and resources for all students commencing their studies.
UniStart sessions
During OWeek students can attend live online information sessions. Recorded versions can be found in Unistart.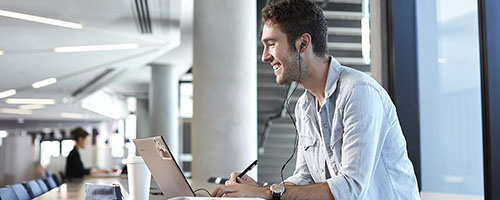 Success Coaches:
are assigned to commencing Cloud Campus students in the first trimester.
are experienced 'Students Helping Students' peer mentors.
connect regularly with students from their own faculty via email.
foster confidence for online learning.
help new Cloud Campus students to access services and support.
For more information email success-coaches@deakin.edu.au.
Peer Assisted Study Sessions (PASS) are available to all students. Increase your chances of success by studying in a group led by a student who has completed the unit.
CloudPASS provides online study support for cloud-based units. Sessions are conducted at a set time each week via Blackboard Collaborate, a web conferencing and virtual classroom solution used by Deakin for online courses.
Find out what happens at PASS or view the CloudPASS timetable for more information.
Deakin has a range of useful resources to help you prepare for study:
Last updated: Page custodian: Student Services