Peer Mentoring Program
Peer mentoring supports new students in the Faculty of Arts and Education with their social and academic transition to studying at Deakin.
Watch the video to learn more!
New to Deakin?
Are you new to Deakin and feeling a little daunted about starting? Sign up for the Peer Mentor Program!
---
What is the Peer Mentor Program?
Peer mentors are the ultimate resource for all students! Having a peer mentor gives you the opportunity to connect with experienced students on a weekly basis to ask all of your questions in a friendly environment, receive essential advice and to learn from their experiences. Starting at University can be overwhelming, so having a mentor to guide you through the first six weeks will help to ensure that your transition to University study is as easy as possible. Due to COVID-19, the program has migrated online and has been extended for the full trimester to provide additional support
What are the benefits of the program?
Participating in the program will allow you to:
Meet new people and establish connections
Learn directly from experienced students who have 'been there' before
Have a first port-of-call for all of your questions
Become aware of the many support services available to you as a Deakin student
Will my Peer Mentor help me with my academic work?
Peer Mentors will help you to succeed in your studies, however, they are not tutors and are not trained to assist with academic work. Peer Mentors will share with you how they have achieved their own academic success. They will help you find crucial resources, let you know who you should be contacting for help and will keep you informed of the many support services and workshops available to you.
Am I eligible to sign up?
Most mentees sign up in their first Trimester of study, however if you have missed out on a mentor and would like one, let us know. It doesn't matter if you are an online student, post-grad, mature aged or in your last trimester - this program is available to any student in Arts and Education.
How does it work?
For the first six weeks of the trimester (entire trimester while we are online), your allocated mentors will meet with you once a week at a mutually agreed time. Generally contact is made via email or text messages as well as in person. It will be important for you to keep in contact with your mentor and to respond to email or text messages throughout the program. Your first meeting with your peer mentor will take place during Week One of the Trimester. While online, most catch-ups run over Zoom, you do not need to download Zoom all you have to do is follow the link sent to you by your mentor.
Who will my mentors be?
Mentors are students, like you, who are just further along in their studies. Peer mentors volunteer to help new students adjust to life at Deakin. Your mentor may not be from your course, but they will be experienced students who have the knowledge and skills to guide you in the right direction.
I am a new student in the Faculty of Arts and Education, how do I sign up for the program?
For more information please email artsedmentor@deakin.edu.au.
Become a mentor
Have you completed at least one year of study in the Faculty of Arts and Education and want to help others succeed? Become a peer mentor!
---
What are the benefits of volunteering to be a mentor?
Opportunity to meet new people and establish friendships
Add skills to your CV that may assist with your future employability
Share and build on your knowledge of university life
Utilise and enhance your personal and academic skills
Enhance your personal and professional development
Enjoy the satisfaction of helping new students cope with the transition to University life
Who can be a mentor?
Students who are enrolled in the Faculty of Arts and Education and who have completed at least one year of study at Deakin. Applicants should be able to demonstrate that they:
Are committed, reliable and enthusiastic
Are a good role model for other students
Are familiar with the University and Faculty services
Have strong inter-personal skills and a desire to help others
How does it work?
Mentors work in pairs and each pair is assigned to a group of new students (known as mentees) to support over the first six weeks of the trimester. Meetings occur each week at a time and place negotiated between mentors and mentees.
What does mentoring involve?
As a mentor, you must commit to the entire six weeks of the program. You will complete the training and hold weekly meetings each week. There are also optional events that we encourage you to participate in, such as the Orientation Week stall and social events. Mentors submit weekly feedback on their progress via an online journal.
Can I be a mentor if I am a Cloud student?
Cloud students are encouraged to apply for Deakin's 'Success Coach Program' which is designed to support all new Cloud students in their transition to University. For further information, go to the Students Helping Students Hub - www.deakin.edu.au/students/get-involved/shs-hub
How do I apply to be a peer mentor in the Faculty of Arts and Education?
Applications open in Trimester 2. Click 'Apply Now' to submit an expression of interest form to become a mentor.
Reapply to be a mentor
Have you completed at least one trimester as a mentor and want to continue? Reapply now for next trimester!
---
I was a mentor last trimester, am I automatically re-enrolled for the next intake?
If you loved being a mentor and want to participate again, you can reapply via the online form (see below).
Will I need to attend training again?
If you have already completed training in the Faculty of Arts and Education you will only be required to attend refresher training (1-2 hours).
How do I reapply?
Click on the 'Re-apply' button below to apply to continue mentoring next trimester"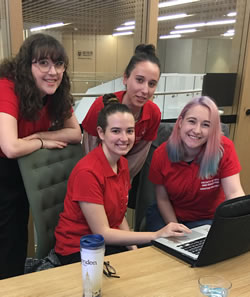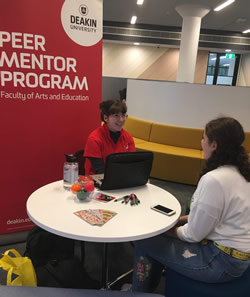 Mentor Hot Desk
Contact Us:
Email: artsedmentor@deakin.edu.au
Phone: 524 79447
Office: Geelong Campus, ic3.312 and IC3.213
Burwood Campus: ask at the Student Central Hub
Last updated: Page custodian: Faculty of Arts & Education