DLS Moot Programs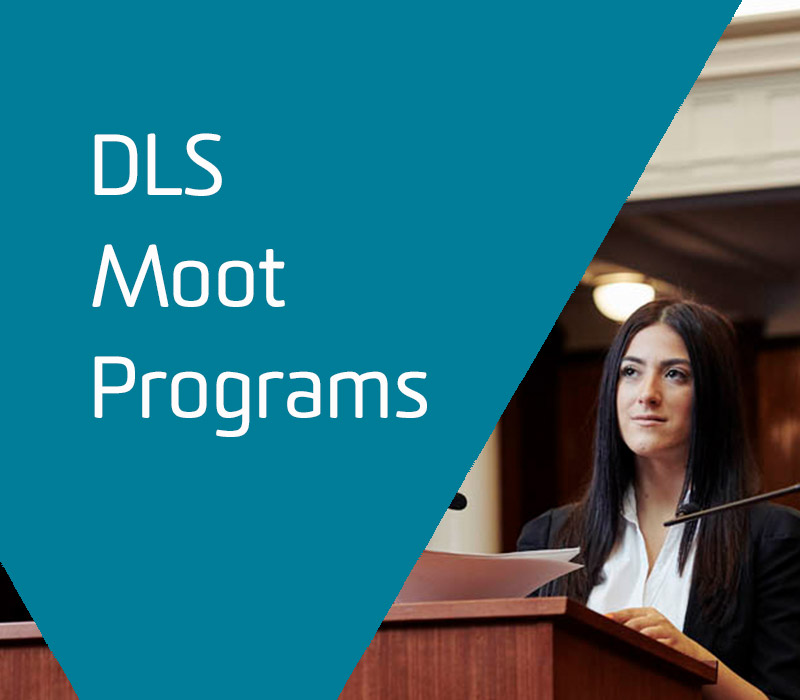 Build a skillset to impress in the courtroom.
Mooting is the closest experience of working in a courtroom you can have at law school. You will develop skills in advocacy, problem solving, legal research, persuasion, collaboration and presentation, whilst deep-diving into a particular area of law. You will also build a valuable network of practitioners and other students.
To support you, Deakin Law School runs a mooting program that provides coaching, mentoring and financial support to help you maximise this opportunity.
Below are the moots we currently support. In general, you will be expected to dedicate 3-5 hours per week to the moot – potentially more as competition dates approach. Other pre-requisites, expectations and registration processes are detailed below. If you have any questions, please contact our Mooting Director, Dr David Tan (david.tan@deakin.edu.au)
Moots and how to take part
If you are interested in MLL355 International Litigation and Dispute Settlement (Vis Moot), please visit the Vis Moot website directly for how to apply.
To express your interest in any of the below not-for-credit moots for 2021/2022, please complete the following EOI form, indicating any preferences that you have.
Alfred Deakin International Commercial Arbitration Moot
Students must be available from the release of the question on the 28th of June until the competition from 7 - 9 September 2021.
Students do not need to have completed International Commercial Law - but preference might be given to those who have.
Selected applicants will be asked to participate in a trial moot based on the competition question (on the 5th of July). Successful applicants will be chosen from this trial moot.
Sir Harry Gibbs Constitutional Law Moot Competition
Students must be available from the release of the question on Tuesday 20 July 2021 up and including participation in the oral rounds of the Competition which run from Saturday 18 September 2021 to Monday 20 September 2021 inclusive.
Preference will be given to those who have completed Constitutional Law.
Further details of the selection process will be provided to those who apply in due course.
Animal Law Moot
Students must be available from when the question is released at the end of July 2021, to 18 - 19 September 2021 for the moot.
Any students interested in animal law (law as it applies to animals) are encouraged to apply, irrespective of their mooting experience or interest.
Further details of the selection process will be provided to those who apply in due course.
Victorian Women Lawyers (VWL) Warren Moot.
There is no other moot like this one.
The Warren Moot offers up to 16 teams of four the opportunity to appear before senior members of the Victorian judiciary. Specifically designed to encourage women to test their advocacy skills and consider a career at the Bar, the Warren Moot is endorsed by The Honourable Marilyn Warren AC QC, Former Chief Justice of the Supreme Court of Victoria and is proudly sponsored by Maddocks.
The Semi-Finals and the Grand Final are held at the Supreme Court of Victoria with an opportunity for friends and family to observe.
Participants will be invited to a launch of the Warren Moot in September at Maddocks and hear from the Honourable Marilyn Warren AC QC and the Honourable Justice Zammit.
There has been no official schedule yet, but the launch of the moots will probably be in late August and run until November.
Moot rounds will generally be held between the hours of 6:00 pm - 7:30 pm
Further information can be found via the VWL website.
Last updated: Page custodian: Faculty of Business & Law