Reporting your research publications
Automatic collection
Elements is the University's publications management tool.
Elements harvests your publications metadata from online data sources, including arXiv.org, CrossRef, dblp, ORCiD, PubMed, RePeC, Scopus, SSRN, and Web of Science.
The tool's default search finds works published since 2008, matching any researcher IDs you have defined in your search settings, as well as your name and your current affiliation (Deakin) and then notifies you.
You can then claim your publications, and reject those that are not yours.
If not already attached to the found record, you must upload:
the full-text document (published version)
accepted manuscript (also known as the post-print version) for traditional research output
and/or supporting evidence.
You must also include the relevant FOR (field of research) codes/s for each publication.
Manual deposit
You can manually enter any publications that Elements does not automatically find by:
ORCID and Deakin
Configuring your Open Researcher and Contributor ID (ORCID) will enhance the ability of Elements to find and match your publications. If your ORCID profile is set up to automatically claim matched records from Scopus, CrossRef or PubMed, or if you included your ORCID with your publication manuscript, the publications will be automatically claimed in Elements.
How to connect your ORCID and Deakin Elements profile.
Publication fundamentals
Deakin uses three platforms to support the publications process:
Elements, the University's publications management tool, which harvests publication metadata from various sites.
Deakin's staff profile pages which provide a platform enabling the researcher to showcase published outputs.
Deakin Research Online (DRO), the University's institutional repository, which preserves outputs and makes research discoverable to the world beyond licensed journals and databases.
Researchers and university staff work together to ensure your publication is collected, reviewed, assessed, published to your staff profile and onto DRO as quickly as possible.
The speed with which your publication makes its way through the workflow is dependent on:
The quality of the journal you have published in, and whether or not your publication has been indexed by Scopus or Web of Science. If the journal has achieved a SCImago Q1 ranking, or meets other quality criteria, your publication will require minimal checking, and its processing will be straightforward. If neither of these conditions are met, your output will require further analysis and assessment by faculty staff, thus potentially holding up the process
Whether or not you have optimised your Elements profile to facilitate automation. Doing things like including your Scopus ID in your search settings, connecting your ORCID and Elements accounts, eliminates the need for you to manually claim your publications. More information on this is available via optimising your Elements profile.
This graphic outlines the relationship between these three services.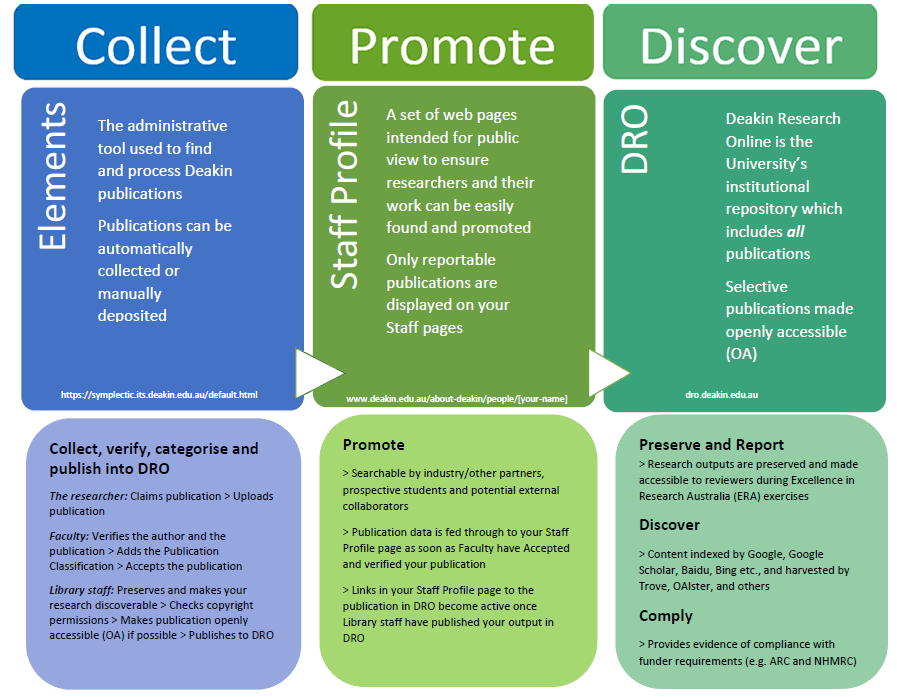 What happens once I have submitted my publication?
Faculty administrative staff, in consultation with senior academics in the schools and faculty as required, will verify whether publications are ERA reportable and eligible for workload points and assign a publication classification (formerly known as a HERDC classification). Your publication will then be accepted, and published to your Deakin staff profile. Please be patient as this is a manual process and may take some time to complete.
Library staff will make sure your research is preserved and discoverable via DRO (Deakin Research Online), the University's institutional repository. They will also make your work open access when copyright and licensing agreements allow.