Peer Mentor Program

We recognise that starting university can be overwhelming.
The Faculty of Health Peer Mentor Program matches new students with a Peer Mentor to help navigate Deakin University resources during the first five weeks of study. A Peer Mentor is an experienced student within the Faculty of Health in the same or similar to course to you that will support your transition into life as a Deakin student.
New Students
Would you like the support and advice from an experienced student?
Your Peer Mentor will get in touch with you via your Deakin email to schedule a weekly catch up with you and other students in the same course as you.
Over the first five weeks of Trimester peer mentees receive support with:
Getting organised with your unit timetables, textbooks, assignments and exams
Navigating Deakin on campus and online
Understanding Deakin's support services
Networking and making friends
And more!
Applications for 2023 Trimester 1 are now open at the link below. If you have any questions about becoming a mentee, please email health-mentor@deakin.edu.au
Current Students
Do you remember feeling overwhelmed during your first few weeks of study?
This is your chance to make an impact on new students in the Faculty of Health. Peer Mentors provide critical support for students in their transition to University.
Peer mentors
Are role models for new students
Receive opportunities to events and gain employment
Gain experience and skills for future employability
And more!
Apply now for Semester and Trimester 1 2023 or learn more via the link below.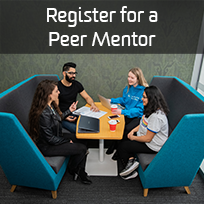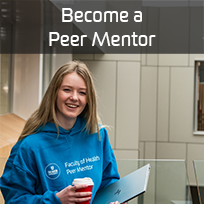 Health Honours Students
Get matched with a PhD or Masters by Research student who can help you navigate your Honours year and share their experiences. The program involves monthly meetings where you can discuss any challenges you are facing and find out more about what to expect during the year.​
Deakin's peer mentoring program is excellent! I recommend that all first years should sign up to this free program as it is a great way to not only learn, but form new friendships with students in your course!
– Past Peer Mentee
---
Mentor Drop-In Sessions
Can't make it to a meeting or haven't signed up for a mentor? Mentor Drop-In Sessions are open to all Faculty of Health students.
Trimester 3 drop-in sessions are available on Wednesdays at 6:30pm. You do not need to register, just join in the Zoom.
Week 1 - Getting Started at Deakin

Week 2 - Cloud Essentials and Connecting Online at Deakin, Study Skills

Week 3 - Assignments and referencing

Week 4 - Deakin Services and managing your study-work-life balance
Week 5 - Making the most of assignment feedback
Week 7 - Study habits and revision techniques
Week 9 - Preparing for exams
Last updated: Page custodian: Faculty of Health