Peer Mentor Program

We recognise that starting university can be overwhelming.
The Faculty of Health Peer Mentor Program matches new students with a Peer Mentor to help navigate Deakin University resources during the first five weeks of study. A Peer Mentor is an experienced student within the Faculty of Health in the same or similar to course to you that will support your transition into life as a Deakin student.
New Students
Would you like the support and advice from an experienced student?
The Peer Mentor program runs in the first five weeks of Trimester. Your Peer Mentor will get in touch with you via your Deakin email to schedule a weekly catch up with you and other students in the same course as you.
During each meeting your mentor will answer any questions you have, help you navigate Deakin resources, let you know who you should be contacting for help and will tell you about the support services available to you as a Deakin student.
Joining the Peer Mentor Program is also a great opportunity to get to know other students in your course or similar courses to you.
Current Students
Do you remember feeling overwhelmed during your first few weeks of study?
This is your chance to make an impact on new students in the Faculty of Health. Peer Mentors provide critical support for students in their transition to University life, and can be the difference between a positive and negative experience of starting life as a student.
If you are interested in becoming a role model to new students while gaining relevant experience for future employability, then apply now to become a Peer Mentor.
Applications for 2021 Trimester 1 and Semester 1 mentors are now closed. If you have any questions about becoming a mentor, please email health-mentor@deakin.edu.au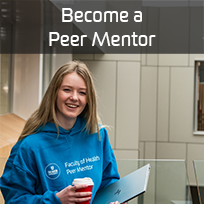 Deakin's peer mentoring program is excellent! I recommend that all first years should sign up to this free program as it is a great way to not only learn, but form new friendships with students in your course!
– Peer Mentee, 2016
---
Mentor Drop-In Sessions
Can't make it to a meeting or haven't signed up for a mentor? Mentor Drop-In Sessions are open to all Faculty of Health students.
Trimester 1 drop-in sessions will be held on the below dates, via BlackBoard Collaborate. You do not need to register, just turn up!
Week 1 - Getting Started at Deakin
Monday 8 March 2.30-3.30pm
Wednesday 10 March 5.00-6.00pm

Week 2 - Cloud Essentials and Connecting Online at Deakin, Study Skills
Monday 15 March 2.30-3.30pm
Wednesday 17 March 5.00-6.00pm

Week 3 - Assignments and referencing
Monday 22 March 2.30-3.30pm
Wednesday 24 March 5.00-6.00pm

Week 4 - Deakin Services and managing your study-work-life balance
Monday 29 March 2.30-3.30pm
Wednesday 31 March 5.00-6.00pm
Week 5 - Making the most of assignment feedback
Monday 12 April 2.30-3.30pm
Wednesday 14 April 5.00-6.00pm
Week 7 - Study habits and revision techniques
Wednesday 28 April 5.00-6.00pm
Second session TBC
Week 9 - Preparing for exams
Monday 10 May 2.30-3.30pm
Wednesday 12 May 5.00-6.00pm
You can log into a session and access recording of previous sessions via the path below:
Go to Deakin Sync, under my learning select 'Course Resources'
Click on the tile named 'Faculty of Health - Students'
When CloudDeakin opens up select 'Content'
Scroll down to Blackboard Collaborate
Select the link in the main section title 'Bb Collaborate Ultra'

When a session is scheduled select the 'student Mentoring' option and select 'join session'
To view a recording select the menu icon in the black bar and select recordings.
Last updated: Page custodian: Faculty of Health