School of Nursing and Midwifery
Welcome to the School of Nursing and Midwifery.
---
The School of Nursing and Midwifery at Deakin University is one of the largest schools of nursing and midwifery in Australia.
We are at the University's four campuses: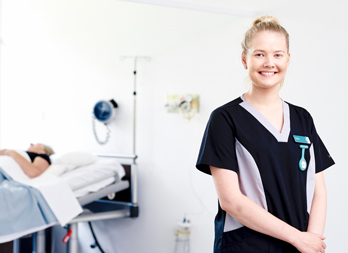 The School is dedicated to providing courses that reflect today's nursing and midwifery practice imperatives at:
undergraduate level; and
postgraduate level.
Our courses produce graduates who are well prepared to meet the challenges of a dynamic health care system.
Our courses are:
committed to quality and safety in health care;
aligned with the recommendations of the Australian Council for Safety and Quality in Health Care (ACSQHC);
evidence-based;
underpinned by best practice guidelines; and
person-centric, ensuring optimal health outcomes for patients, their families, carers and the community.
Undergraduate courses
We believe in an experiential approach to nursing and midwifery education.
As an undergraduate student you will engage in patient care experiences in the clinical setting throughout your course.
This experiential approach underpins the:
Bachelor of Nursing
Bachelor of Nursing (Clinical Leadership)
three unique combined courses:

Bachelor of Nursing/Bachelor of Midwifery
Bachelor of Nursing/Bachelor of Public Health and Health Promotion
Bachelor of Nursing/Bachelor of Psychological Science.
You can also apply for one of the unique Clinical Fellowship programs.
If we select you for a Clinical Fellowship program, you can:
do most of your clinical placements in one health service
in some cases attend seminars and simulations in that health service.
Postgraduate courses
We conduct our postgraduate offerings in collaboration with several hospitals and using a work-based education model.
We carefully select the following focused learning modalities to prepare you for specialty practice:
team-based learning
flipped classroom
cloud technologies.
Postgraduate courses are offered in:
cardiac care
critical care
emergency care
intensive care
perioperative
midwifery
nursing practice
diabetes education.
You can study postgraduate research degrees at a:
masters level
doctoral (PhD) level.
Partnerships
Our extensive partnership arrangements with major health care providers is a feature of our engagement with the clinical setting.
Through the joint appointment of staff, these formal partnerships support:
research activity; and
student clinical placement opportunities.
We also have extensive links with other hospitals and health services for:
clinical placements
research
consultancy activities.
Our formal partners include:
Alfred Health
Barwon Health
Eastern Health
Epworth HealthCare
Monash Health
Western Health.
Our long-standing appointment of clinical professors in these partnerships has led to the development of outstanding research outcomes for:
patient care;
our partners; and
our School.
Research Centre
The School also hosts a University funded Strategic Research Centre: Centre for Quality and Patient Safety Research (QPS).
International partnerships
We have many international relationships, and formal partnerships in:
Asia
Canada
Europe
United Kingdom
USA.
These partnerships give you the chance to undertake:
trimester exchanges in Denmark
study tours in

Bhutan
China
Philippines
Thailand.
We conduct several international research activities with our offshore partners including:
collaborative research projects
staff and student exchanges.
We also have a variety of international students to ensure:
cultural diversity within your cohort
the opportunity for you to learn about global health care challenges.
Information to assist you in course planning and enrolling for the upcoming academic year.
For all clinical related enquiries please contact the clinical team:
You need essential knowledge, skills and capabilities to:
undertake and successfully complete the undergraduate nursing and midwifery courses; and
to practice safely as a registered nurse and/or midwife.
All School of Nursing and Midwifery students are required to read and comply with the inherent requirements for the Bachelor of Nursing suite of courses.
You may be able to participate in the following international opportunities:
Student Exchange Program
Study Tours to:

Bhutan
China
Philippines
Thailand
This site contains many helpful resources to assist you with your studies.
This includes information on the following:
Name badge ordering
Uniform order form and styles
Clinical Simulation Centre practice bookings
You are able to book Simulation Centre Beds for nursing simulation practice and related activities...
To book a practice time slot, click on the relevant link below and follow the instructions:
Join the Nursing and Midwifery Alumni Chapter.
Last updated: Page custodian: Faculty of Health