ChemWatch
Safety Data Sheets (SDS) are supplied with a hazardous substance or dangerous good by the manufacturer or supplier and must be available close to the chemical. Current, comprehensive SDS's are readily available on Chemwatch. This is a licensed web-based chemical information system available online.
When a Deakin computer is used on campus no password is required. This link provides read-only access. When a computer is used off campus, no password is required provided that you are connected to the Deakin encrypted VPN, as per the picture below.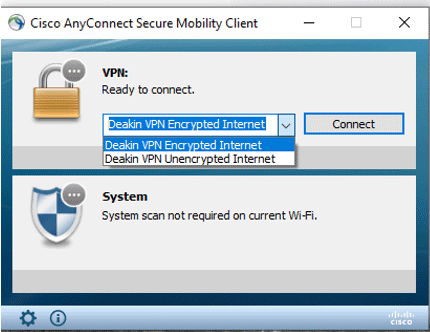 Write access to specific Chemwatch manifests for updates etc. can be provided, along with Chemwatch training for Staff who manage chemical stores. If you have a particular requirement please contact OHS (Campus Services).
An eLearning training package is available inside Chemwatch, go to the eLearning button at the top right of the Chemwatch page.
Select Gold FFX Basic Users Guide.

Last updated: Page custodian: Campus Operations