Milling and turning
Okuma Multus U3000 is classed as a multitasking mill/turn machine.
Combining 5 axis mill X,Y,Z,A and C, 4 axis turning capabilities utilising B axis, and a sub-spindle for W axis, makes the Multus U3000 a seven axis Computer Numeric Controlled (CNC) machine.
Typical work pieces

Materials
General manufacturing materials are:
aluminium
carbon steel
brass
stainless steel
titanium
nylon (in certain applications).
Please contact technical staff to discuss material requirements.
Accessories
Besides general machining operations, the Okuma Multus U3000 has a number of accessories that may be utilised for research and projects. This includes:
use of the peening tool to increase surface finish and hardness
a jigging plate – available for SLM 3D printed components and for post printing operations.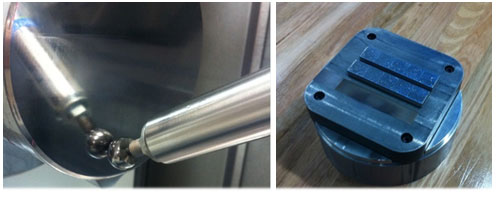 File preparation
Files provided for the Okuma Multus U3000 need to be provided as Part, Solid Part, STEP, IGES or IGS format with dimensions in millimetres (mm).
Please see information for file export from Fusion 360, Solid Works and Inventor Programs (PDF, 339.1 KB).