Safe Work Procedures
Safe work procedures are the foundation of a safe work place. Senior Faculty, Portfolio, Institute and Divisional managers are responsible for establishing a system that supports safe work procedures and ensuring that system is working in practice. The development and implementation of individual safe work procedures are usually a local management responsibility.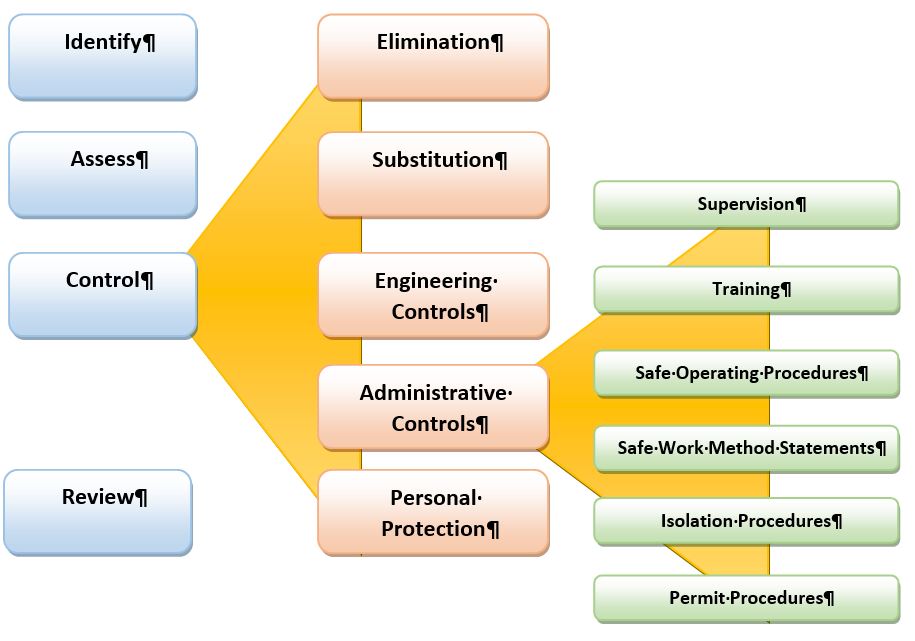 Safe Work Procedures
Safe Work Procedures (SWP) are operational documents created locally to describe the safest and most efficient way to perform a certain task, carry out an operation or operate a machine/tool. Safe Work Procedures will normally come out of a risk assessment as an administrative control.
Safe Work Procedures are required where medium to high risk work is carried out.
Safe Work Method Statement
A safe work method statement (SWMS) sets out the high-risk work that will be performed along with relevant controls, codes or legislation. An SWMS is a statement of the risk control measures identified for the specific high-risk work task. The SWMS demonstrates that any high-risk hazards that may affect the work being undertaken have been identified and there are control measures in place to reduce or remove the risk.
Commonly and legally a safe work method statement is used for high risk construction work. The OHS Regulations 2017 (OHS Regulations) require the University and its contractors to prepare a SWMS before commencing 'high risk construction work', if that work poses a risk to the health or safety of any person including other persons on site or the public.
---
Permit procedures
Permit procedures are used to control access to hazardous locations or manage particularly hazardous work.
The development of permit procedures are a local management responsibility. Their management and updating should be part of the organisational area's HWS Plan.
There are two types of permits: "Permits to Enter" (Entry Permit) and "Permits to Do" (Work Permit).
Entry Permit
The Entry Permit gives access to a hazardous location and the ability to carry out low risk work such as checking the operation of plant. The Entry Permit only controls the requirements on the person(s) entering the hazardous location and the hazards associated with that location: for example, unguarded plant, unguarded drops, confined spaces, poor lighting, trip hazards etc.
Work Permit
The Work Permit is separately issued to cover hazardous work such as welding, hot work, electrical work and machine maintenance. The Work Permit also includes activities such as plant isolation.
The Permit System Standard (PDF, 201.0KB) must be followed regarding Permit Procedures.
---
Hazard Isolation procedures
Isolation Procedures can also be called Lock-out, Tag-out or Barricading procedures.
Isolation procedures are used in two ways. Firstly plant isolation (lock out) involves the removal of the energy source from an item of equipment in such a way as to prevent the possibility of inadvertent energisation of the equipment. The de-energisation must also prevent the introduction of contaminants or conditions through equipment such as piping, ducts, vents, drains, conveyors, service pipes and fire protection equipment, into working areas defined as "confined spaces". Isolation not only applies to electrical equipment but also any powered equipment .
The second form of isolation involves stopping people from entering a temporarily dangerous area.
The Isolation Standard must be followed with hazardous (plant) isolations. The Standard should be used as the basis of local Safe Operation Procedures.
The Plant Isolation Checklist can be used specifically with plant isolations however it should be adapted to local needs and specific hazardous plant and equipment.
Where electrical equipment can be de-energised and isolated fully by unplugging from a power source, please refer to Defective Electrical Equipment Standard.
Last updated: Page custodian: Human Resources Division